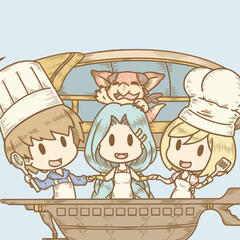 The Crew's Kitchen
A non-profit charity cookbook fanzine project dedicated to Granblue Fantasy
About
The Crews' Kitchen is a non-profit Granblue themed cookbook project in support of food related charities for those in need. It entails 3 volumes total, split into three categories of: easy every day meals, sweets and treats and cafe style comfort food. It is our goal and sincerest wish that through this project, readers will find joy in their own kitchens whist at the same time, reaching out to break bread with the less fortunate and provide everybody near and far, with a good meal at home.

The idea was originally conceived in May 2018 by the hosts as an offhanded comment during a hanami picnic. Despite being a joke the idea stuck. The idea of a book we wished to exist that could also help others was strong. The convo spiraled, and by the time the picnic was over half the book and its contents had already been planned. If the Grandcypher crew had taught us anything, it was that we don't run from our dreams. We hope you, the reader, may join us on this endeavor.
The Charities
Throughout the course of the project two charities will be receiving the proceeds from this project: World Vision's Charitable Chickens and Second Harvest.

Charitable chickens
World Vision's chicks and chickens donations provides these animals to families living in underdeveloped countries as a source of both food and income. Chickens and hens are affordable to raise and can graze, making them a huge financial asset through the harvested eggs either through food or income. In underdeveloped countries, livestock and poultry are a huge source of income and can mean financial stability and increased social status.
More info on the charity here

Second Harvest
Did you know? Massive food waste is a serious problem in North America due to a multitude of factors, and food is often thrown out despite not being anywhere near expiration and being fully eatable. As a country we grow and produce enough food to feed all of our hungry, but much of it ends up going to waste which also causes an excess production of greenhouse gasses which harm our air and environment.

Second Harvest is a food rescue charity that aims to feed the impoverished and educate good consumables management by taking perfectly good and eatable food and produce destined for the landfill and delivering them to the needy instead, thereby reducing waste and greenhouse gasses.

More info about the charity here
More info about the food waste issue covered here


Disclaimer: none of the hosts, organizers or contributors for the zine are affiliated with any of the above charities or informational links. They are for educational and informative purposes only.

We are open to suggestions on other good, charitable causes for future volumes of the project!
The Book
The Crews' Kitchen is a cookbook. You won't find fanfiction or creative writing here like other fanbooks or zines, but you'll find delicious recipes to make at home accompanied by lovely illustrations for each recipe!

Volume 1 features 18 recipes that all range from starters, entrees to desserts. The particular dishes featured in this volume are easy, affordable, and comforting to eat. Good for any hardworking skyfarer after a day of work or classes!

All recipes featured in the cookbook are doable at home with no special tools or equipment. They're cooked on a regular basis by the contributors, many of whom come from backgrounds and histories of professional chefs and cooks with a great love of things delicious so quality is extremely important to us. We hope everyone enjoys these dishes as much as we do!
Volume 1
Status: ORDERS NOW IN PROGRESS
Organizing staff: Cin, Minji, Swin
Artists: Coffee Cait, Minji, Susie, Swin
Pages: 52, full colour
Size: 5.5x8.5 inch(A5 approx)
Recipes: 18 + bonus
Illustrations: 18 + bonus
Volume 1 charity: World Vision Chicks for children
More info on the charity here
Previews
Apply to Participate
Interested in the project? We'd love to have you on board! The Crew's Kitchen project will span a total of 3 volumes and currently open to application from skyfaring artists who are interested in contributing their talents for a good cause!

Volume 1 is now complete but Volume 2 and 3 will have slots open for application. Please be aware that slots are very limited due to the nature of the book's complicated process. Further information below:

Basic information:
Primary host/organizer: Swin
Organizing Staff: Cin, Minji, Susie, Swin
Franchise/series: Granblue Fantasy
Theme: cookbook with game inspired recipes
Book Size: Digest/A5 (approx 5.5"x8.5")
Vol 2 & 3 Sub-themes: cafe sweets patisserie(primarchs & primals), cafe style comfort food(knights)

Application Link for Volume 2: coming soon!
Application Link for Volume 3: coming soon!
Artist Information
Requirements:

Illustration: finished, full color(or spot colour if intended for stylistic intent). New illustration not previously used or submitted to other publications.
Artwork size: US trade/C5(approx 6"x9"). A template will be provided
Illust guidelines: artists will be assigned a recipe from the book for illustration and the finished item in the recipe is required to be visible somewhere in the finished art. Artists will be given the opportunity to select their desired recipe to illustrate. Artists may be provided with the original game reference for inspiration if necessary, but are NOT required to illustrate said character or theme and are free to choose as they please, however artists are encouraged to illustrate based on the theme and use their creativity!
Rating: PG 13. Please keep all content relatively friendly(after all, it's a cookbook!) This is a non-ship book.

Timelines:

Volume 2: Paradise Patisserie
Theme: What Makes the Sky Blue, primals and sweetsApplication period: Nov 11th - 22nd Selection announcements: Nov 25thIllustration & working period: May - SeptemberSoft Deadline: Feb 15th 2020Hard Deadline: Feb 29th 2020Pre-order period: TBDOfficial debut & shipping: TBD



Volume 3: Knights & cafe comfort food
Application period: TBDSelection announcements: TBDIllustration & working period: TBDSoft Deadline: TBDHard Deadline: TBDPre-order period:TBDOfficial debut & shipping: TBD
Note: timelines are subject to changes to accommodate participants and potential unexpected situations or delays. In the event of a timeline or deadline change, all participants would be notified well in advance.
Revenue proceeds: charity, non-profit. Two charities have currently been chosen, but staffers and artists may vote for the desired charity during the planning process of volumes 2 & 3 for other good causes.

Remuneration:
As this is a non-profit zine, monetary paid remuneration will not be available(see proceeds above)

Contributors(both staffers and artists) will not be paid, but other forms of remuneration will be provided as follows:

Free physical copy of zine for all artists and organizer staff with all highest tier bonuses, available for local pickup on debut or mailed at no cost to the artist.
Artists who choose to illustrate additional pages will be provided an additional remuneration gift of a personal custom made stationary pouch or custom book cover, made only for this book.
All spare or excess bonus merch that is remaining, provided that the expense of production has been covered to break even on its production, will be provided to the illustrating artist/designer at no cost.
Extra buy-in copies:
The books and bonuses will be available to all artists and staffers to purchase at cost(wholesale) during advance pre-order period. As this is a non-profit zine, we kindly request that contributors please do not order buy-in copies of the book as for-profit resale out of respect for the charity and collective work of all. However artists may procure buy-in copies of any bonus merch they have illustrated for resale.
Volume 1 Regular Orders
Advance pre-orders closed. Regular orders sold out!
All copies have been sold out! Thank you very much for your support!
Order via Paypal Here

Please allow about 2 business days for processing before your order ships.
First run limited bonus: to celebrate the volume 1 release, extremely limited copies of the first print run will include a FREE dust jacket with alternate additional cover art. Dust jackets will not be included in books after advance pre-orders and will not be reprinted. Sorry, first run bonuses now completely sold out!

Advance pre-order pickup at International Fan Festival Toronto:
The book will debut at IFF 2019 held on April 19th-21st in Toronto, Ontario Canada.
Physical pick up will be available for guests who are attending the convention to save on shipping cost!

About orders & shipping:
Worldwide shipping will be available(some restrictions may apply where post offices and couriers cannot travel)

Shipping cost within North America: estimated from $7-$15 depending on your location and total weight of order.
International shipping: estimated from $10-$17 depending on your country and total weight of order.

Important Note: All orders are shipped from Eastern Canada. Above estimates are based on orders of single items only. Please be aware heavier orders or greater distance from dispatch may result in higher shipping cost. The actual cost will be reflected on the invoice.

Orders will be provided an invoice reflecting exact shipping costs and will be given tracking.